Why TDI?
Information and Communications Technologies do not provide DHH people with the level of access and ease experienced by the general population.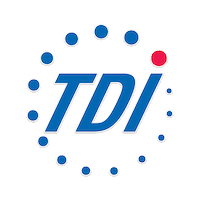 Mission
Foster full accessibility, equity, and inclusion in information and communications technology (ICT).
Vision
All individuals and communities have full access and equitable participation in information and communication networks.
TDI monitors and comments on federal policies and rules involving access to information and communication technologies. To best represent the diverse DHH community, TDI engages, interacts, and networks with many DHH stakeholders through a variety of programs: online DHH directory known as the Blue Book, a biennial conference coined TDIConf, an on-demand video learning resource called the Training Institute, a digital publication (TDI World) featuring our latest work, our annual scholarship for graduating DHH high school seniors, and an annual Holiday Party for our members, donors, and sponsors.
Policy Comments
TDI is the nation's leading advocate for deaf and hard of hearing people's equitable access to telephone, radio, television, wire, satellite, and cable networks.
Since 2000, TDI has filed over 1,800 comments in the FCC's Electronic Filing System. TDI has filed or signed onto over 200 comments across the other federal agencies. 
Read / watch our latest filings at TDIforAccess.org/News
Blue Book
In 1968, TDI published the world's first deaf and hard of hearing directory of TTY users, affectionately known as the Blue Book. What started out as a modest directory quickly grew into a DHH household staple.
Today, the Blue Book is a world wide directory listing of businesses, schools, organizations, and government agencies that have a vested interest in the deaf and hard of hearing community.
Find your local DHH business at TDIBlueBook.com
TDIConf
TDI hosts a biennial conference in the Washington metropolitan area during odd numbered years. The conference brings together policy makers, industry professionals, academia researchers, and DHH consumers to shape accessibility in information and communication technologies.
The President's Reception, Professional Luncheon, and TDI Awards are short networking functions that happen during TDIConf week.
Register for conference at TDIConf.com
Training Institute
The TDI Training Institute is a quarterly event, spotlighting critical accessibility topics relating to information and communication technologies. TDI hosts interviews or presentations from subject matter experts.  
This is a virtual event that allows TDI Members to engage the presenter and learn about the various accessible technology applications we use.
Watch recent training series at TDIforAccess.org/TrainingInstitute
TDI World
A digital magazine sharing accessible content of TDI's policy efforts, quarterly reports from TDI's leadership team, DHH consumer guidances on trending ICT & accessible tech news.
Each issue contains videos, text, and other graphics to help DHH consumers understand what is being done to improve access to the nation's telephone, cable, television, radio and broadband networks.
Read the latest issue at TDIforAccess.org/TDIWorld.
Scholarship
An annual scholarship program recognizing graduating high school DHH seniors who are committed to giving back to their community in order to continue improving access to communications technologies for DHH people.
Students are recognized for their passion and capacity to lead and serve, as well as their commitment to making a significant impact on accessible communication technologies. The application window is from Feb – May every year. 
DHH graduating seniors apply at TDIforAccess.org/scholarship
Holiday Party
Our annual invitational event brings together TDI members, our affiliates,  sponsors and donors to celebrate our accomplishments and close out the year.
Attend the next Holiday Party, become a TDI member today! 
Jan Withers
PRESIDENT &
DIRECTOR
Southeast Region
(Term ends Aug 2023)

Jim House
VICE PRESIDENT &
DIRECTOR
West Region
(re-Election Aug 2023)

Mei Kennedy
SECRETARY &
DIRECTOR
Member at Large
(re-appointment Aug 2025)

CM Boryslawskyj
TREASURER &
DIRECTOR
Northeast Region
(Term ends Aug 2023)
David Coco
INTERIM CEO
Central Region
(re-Election Aug 2025)

Tina Childress
DIRECTOR
Member at Large
(re-appointment Aug 2025)

Curtis Humphries
DIRECTOR
Member at Large
(appointed Apr 2022)
John Kinstler
DIRECTOR
Midwest Region
(Term ends Aug 2025)

Opeoluwa Sotonwa
DIRECTOR
Member at Large
(re-appointment Aug 2025)

Tommy Horejes, Ph.D.
DIRECTOR OF POLICY & ADVOCACY
Genelle Sanders, Ph.D.
DIRECTOR OF PROGRAMMING